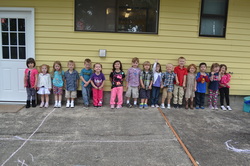 Classes
School year 2017-2018
3 & 4 year old class (must be 3 years old by May 31st) 9:30am-12:00pm 2 days a week Mon/Wed
current tuition is $185 a month
~Class is full. Please call for waiting list.~
Pre-k AM class (must be 4 years old by May 31st) 9am-12pm
3 days a week Tues/Thurs/Fri. Current tuition is $240 a month
~Class is full. Please call for the waiting List or to enroll in the PM class~
Pre-k PM class (must be 4 years old by May 31st) 12:30pm-3:00pm
3 days a week Tues./Thurs./Fri Current tuition is $215 a month
~Class is full. Please call for the waiting List~
​
There is a one time registration fee of $100 to hold and secure your child's spot for the fall.
*2017-2018 school year runs from September thru June. We follow the Puyallup school district schedule, with the exception of starting Preschool a week later in September, our Mid winter break in February is a week long for the consistency of all the programs and ending 1 week earlier in June.
Call or email today for more info. and to set up a tour
253-970-7161
raych912@aol.com
Summer Camps:
Forms are available to sign up May 1st.